Notification of problems when importing leads in bulk
September 2019, 9 (Tuesday) When reeds are collectively registered (renewed) under specific conditions
We have confirmed a problem that the presence / absence of mail delivery request is not updated.

We sincerely apologize for any inconvenience caused to our customers.
The events are summarized below, so please check.



Event
In the "Register leads all at once * ①" function, select "Update (overwrite duplicates) * ②" and select
If you are using "Do not update (do not import as blank) * ③" in "Handling of blank cells"
Change from desired (* written as 1 on CSV) to not desired (* written as 0 on CSV)
Even if the import work is performed, it will be registered in the desired state.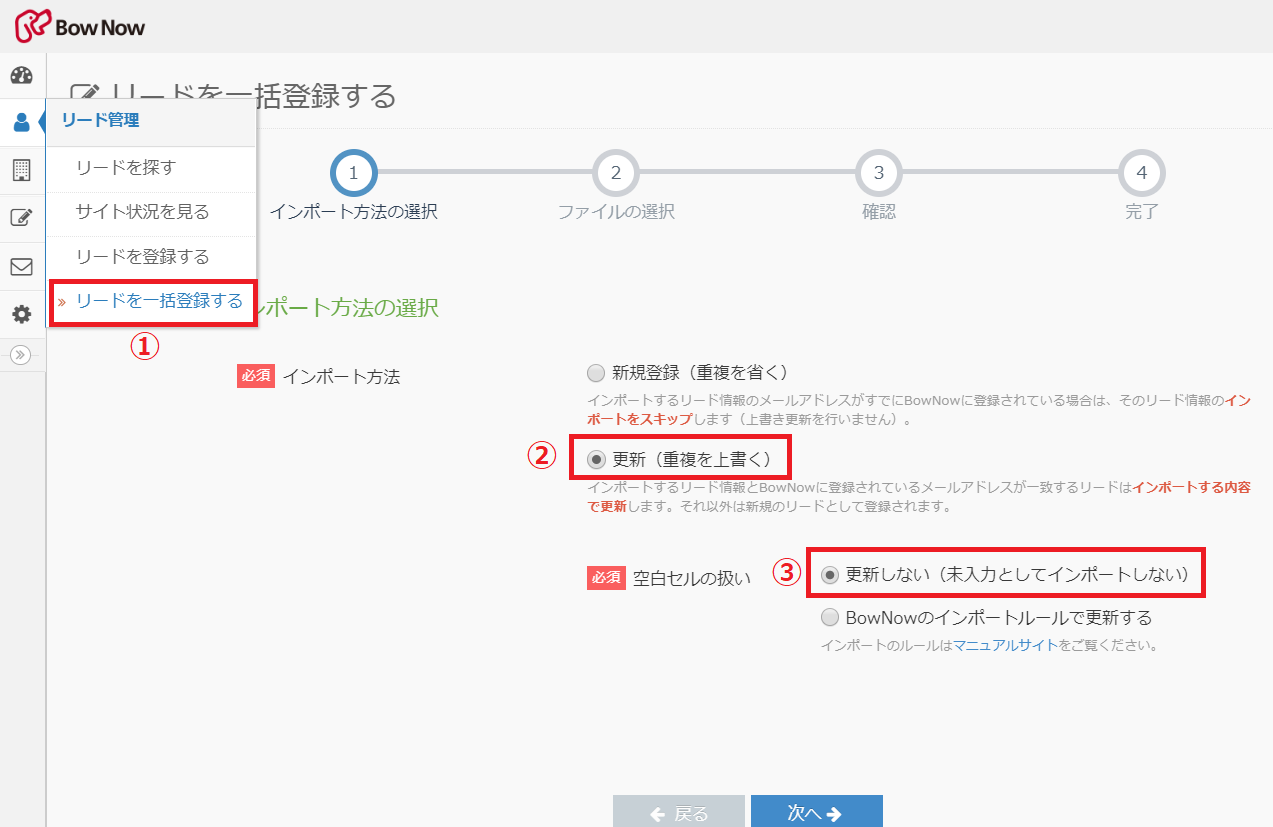 Applicable time and range of influence
Occurs from Monday, August 2019, 8.
Causes and countermeasures
A problem occurred during the version upgrade process carried out on August 8th.
Currently, the repair is being carried out immediately, and the correction is scheduled to be completed on September 9.
* Information will be updated as soon as there is progress.
How to avoid the event
When changing whether or not you want to receive e-mail by batch registration of leads,
Until the program is modified, in "Update with BowNow import rules"
Thank you for your cooperation.

--------------- <Added at 9:4 on September 16th (Wednesday)> --------------- -
Regarding the problem when importing all leads
We have confirmed that the import work can be performed normally.
We apologize for the inconvenience this time.
To be able to provide stable services while taking measures to prevent recurrence
I will do my best.
Thank you for your understanding.
―――――――――――――――――――――――――――――――――――――――――――――――――――――― ---------------
About consultation
In addition, this case
To
If you have any questions about this, please do not hesitate to contact us.
official
,
To the support window
To
Please tell us.
BowNow support window
TEL: 050-3196-1032
Reception hours: Weekdays from 10:12 to 13:17 / XNUMX:XNUMX to XNUMX:XNUMX

Mail: circus_support@startialab.co.jp
This case, to all our customers
To
Sorry for the inconvenience
Sincerity

To

I'm sorry.
To prevent such problems from occurringBow Now

Services

Of

Stable

We will continue to make it.

Thank you for your continued support of BowNow service.