Notice of ver3.5.0 release
BowNow will be upgraded on January 2019, 1 (Wednesday).
Below is the outline of the version upgrade.



About version upgrade contents
new function

Original JS settings
Added setting items so that JavaScript can be written in BowNow forms and contents.

Change

The specification has been changed so that the lead company name is displayed in the alert email of the ABM template.

Fix

Fixed a symptom that caused an error when changing the read status all at once.

Fix

Fixed an issue where incorrect content was displayed in the trace log page title when using the browser's back button in certain environments.
Version upgrade details
Original JS settings
Javascript can be set in the form
Previously, it was not possible to write JavaScript in the BowNow form or content area, but we have added setting items so that it can be written. If you want to link with EFO tools, please use it.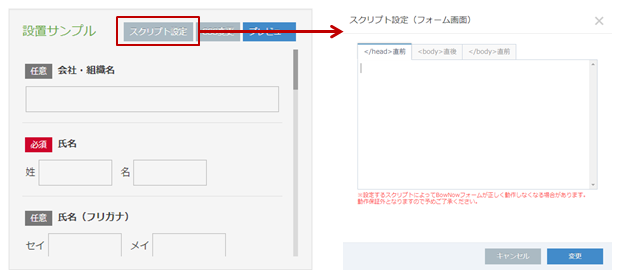 * There may be a problem with BowNow's behavior itself due to the newly set script.Please note that we cannot guarantee the operation or support if the scripts are batting each other.