Notice of ver4.7.0 release
The version will be upgraded from 2021:8 am on Thursday, August 26, 7 for about 2 hours.

With the release, you will not be able to view the lead details screen in the management screen for 7 minutes from 9:30 am to XNUMX:XNUMX am.
We apologize for any inconvenience caused to our customers.

Below is the outline of the version upgrade.
About version upgrade contents
new function

The UI of the lead details screen has been renewed.
In addition, the following new features will be released.
-It is now possible to display the actions of leads and the actions and updates taken for leads in one timeline.
-It is now possible to record ToDo settings and their actions on leads.
-You can now leave notes on the timeline
-Added "ToDo / Specify result" to the search box, and now you can search for ToDo and action results set for leads.
-Added the item "Keyword (memo search)" to "Specify management information" and "Specify exclusion of management information" so that you can search for memos on the timeline.

* The name of "Memo" has been changed to "Remarks".
Therefore, please change from the CSV for batch registration that you have been using until now to the latest version of CSV.
(It can be handled by changing the memo on the first line to a remark.)
* The name of the previous "keyword" search has been changed to "keyword (remarks)".

new function

The operation history confirmation screen and the function have been added to the target functions.

new function

Added a function to measure the number of clicks for each URL of emails.

Fix

Other minor bug fixes have been made.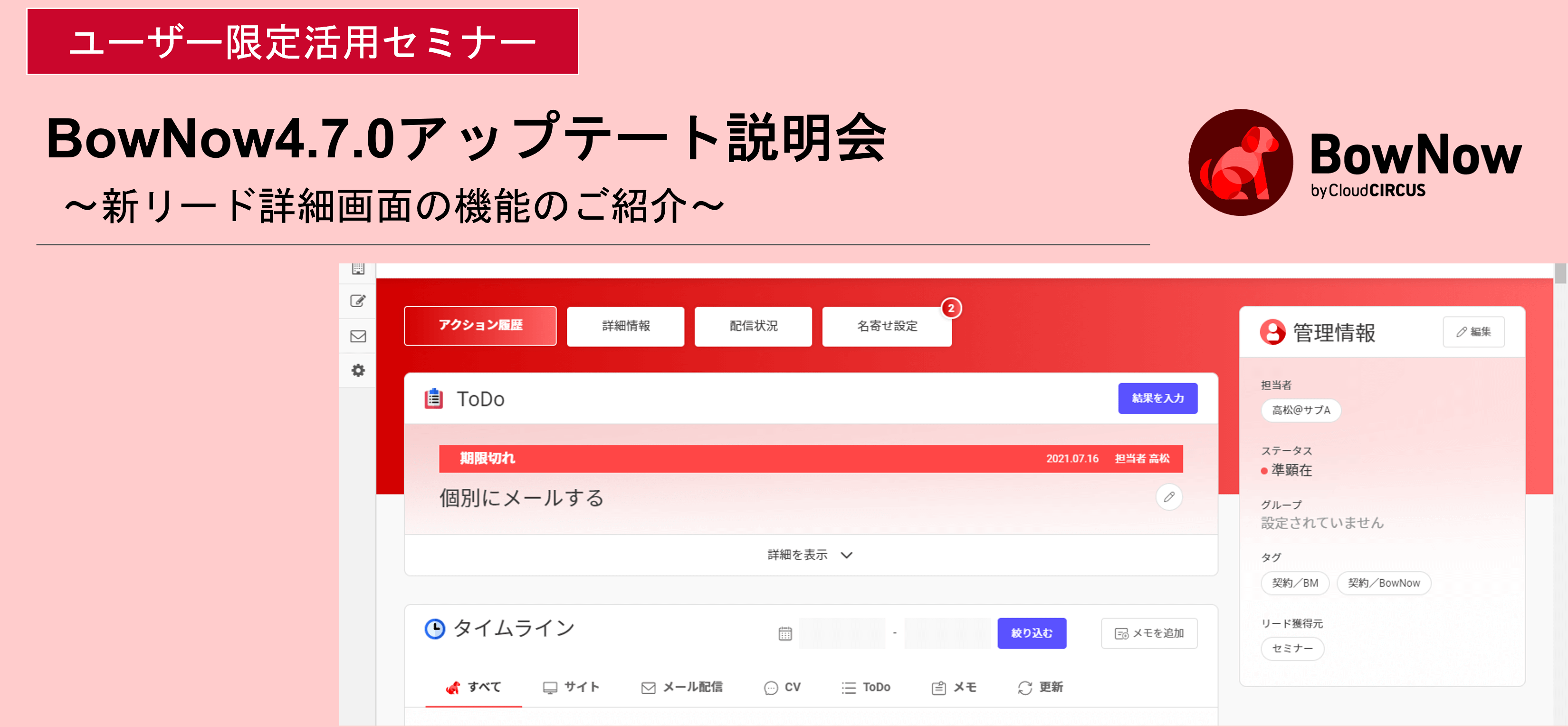 [September 9nd (Thursday)] BowNow 2 update briefing session-Introduction of new lead details screen functions-
In this briefing session, we will explain the enhancements to the lead details screen that was updated on August 2021, 8.
This time, the conventional screen has been renewed and a new ToDo function has been added.By managing the customer pursuit task after extracting hot leads, it has become possible to carry out marketing and sales activities more smoothly!
This is an online seminar, so feel free to join us! !!