Notice of ver5.1.4 release
The version will be upgraded on October 2022, 2 (Wednesday).

Below is the outline of the version upgrade.
About version upgrade contents
Refurbishment

The list of [★] marks in the saved search conditions on the right side of the screen has been modified to be modalized.
At the same time, the slide menu on the right side of the screen has been revised.

In addition, we are changing the maximum number of search conditions that can be saved.
→ The upper limit is 50 leads and 50 companies.

Refurbishment

In the new mail function, the font switching function in the menu of the mail editor has been implemented.

Refurbishment

Validation was added to "Value of linked form" of linked form.
Due to the system specifications, controller, action, form_id, client_id, and title are disabled.

Fix

In the new mail function, when a link with a parameter was delivered by mail, the problem that it was not counted in the link click details was fixed.

Fix

Other minor bug fixes have been made.
Version upgrade details
[★] mark of the saved search condition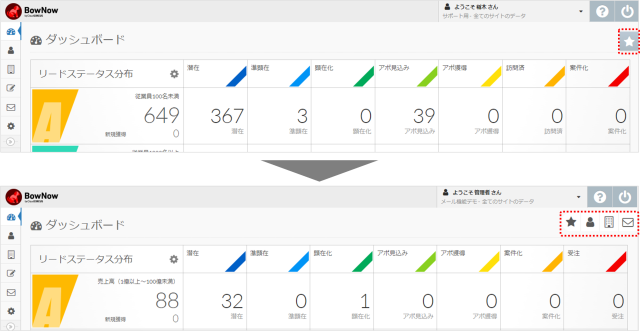 Before the version upgrade, it was displayed at the top right of the screen. Click the [★] mark> "Saved search conditions" was displayed by sliding from the right side of the screen.
With this version upgrade, we have created and changed the buttons for "Lead", "Company", and "Mail delivery list" so that they will be displayed modally when clicked.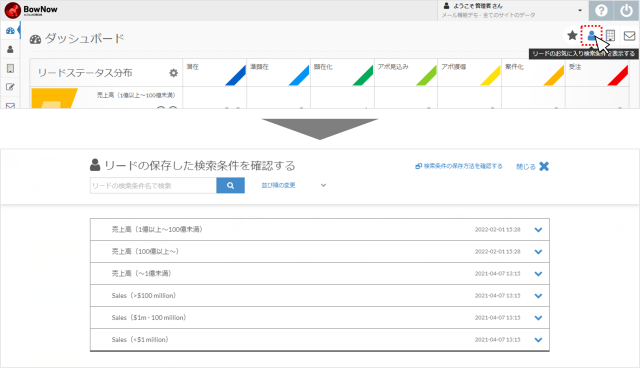 If you click a button other than the [★] mark, the modal of each saved search condition will be displayed.

You can move it by dragging and dropping the search condition list displayed modally, and it will be saved automatically.
If you change the order here,
[New mail function] Font switching function

You can now switch font information within the editing tool.
* HTML email fonts are highly dependent on the receiving environment (mailer, device, OS), and may not be displayed as the sender intended.Thank you for your understanding.