Notice of ver1.4.0 release
BowNow will be upgraded on November 2016, 11.
Please check the detailed information below.
maintenance
1. Form creation function extension
・ Strengthen display wording changes
・ Expansion of editing functions such as first and last name, address, mail delivery request, etc.
・ Change login setting screen
Please check the following page for detailed operations.
I want to change the language of the form
2. Strengthening CSV items that can be downloaded from the company list
It is possible to specify the measurement period and narrow down the numerical value for each action of the lead.You can also search by page, such as the browsing page address and the inflow source address.
▼ Currently
Company / organization name, IP address, number of leads / UUs, total number of accesses, final action
▼ After version upgrade
Company / organization name,Company name (English),Website, IP address,Zip Code,Address,Phone Number,FAX Number,Listing classification,Capital,Employees,amount of sales,Industry classification,Industry category,Industry sub-category,Industry subdivision, Number of leads, number of UUs, number of PVs within the period, final action
3. Addition / change of display items on the system setting screen
On the management screen, the item of "System usage status" in the system settings will be added or changed.
▼ Currently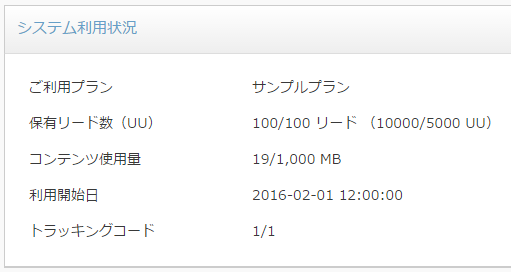 ▼ After version upgrade