Find a company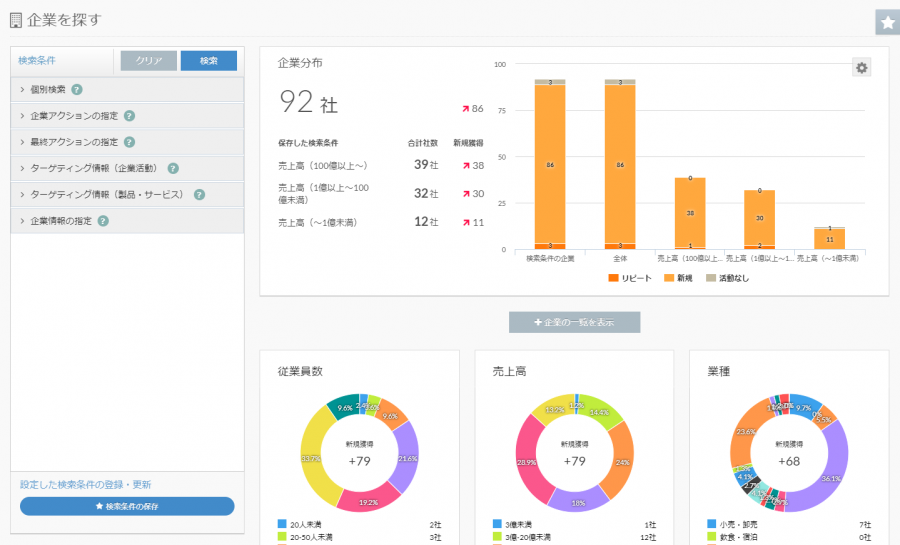 In Searching for a company, you can extract and check the company information to which the lead tracked by BowNow belongs.
(From companies that identify by IP address, companies that are manually registered)
You can easily create a list of potential customers.
Initial setting of the page to find a company
On the page to search for companies, the search conditions are set on the system when the page is opened.
If you display all the items, it will take time to load the page, so this is the specification.
Also, since this initial setting is done on the system, it cannot be changed for each management screen.
▼ Initial setting contents
・ Search target is all domains
Company distribution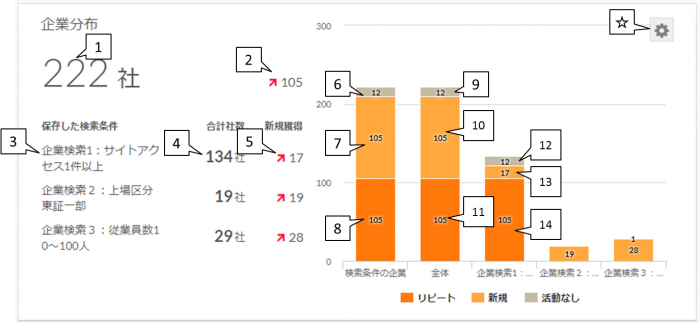 ☆
You can add / update the saved search conditions registered in Searching for a company.
The company distribution can display up to 4 saved search conditions.
1: Total number of companies
All companies registered in the tracking code
All companies recognized by IP address and manually registered
2: Increase in all companies
Of the three, the number of companies registered during the period from the date of viewing the management screen to 1 days before
(Example: When viewing on December 2017, 12
 Number of leads increased from November 2017st to December 11st, 1)
3: Saved search conditions
Among the search conditions registered on the "Search for companies" page, the search conditions checked with the gear mark
4: Number of saved search condition companies
Number of companies that match the search criteria registered on the "Find a company" page
5: Increased number of saved search condition companies
Of the three, the number of companies registered during the period from the date of viewing the management screen to 3 days before
6: Inactive companies (search conditions)
Among the companies searched from the search conditions on the left side, the number of companies whose company registration is before the aggregation period (30 days before the management screen browsing date) and the user actions of all the leads to which they belong do not exist within the aggregation period
7: New company (search conditions)
Among the companies searched from the search conditions on the left, the number of companies whose company registration is within the aggregation period (30 days before the management screen viewing date)
8: Repeat companies (search conditions)
Among the companies searched from the search conditions on the left side, the number of companies whose company registration is before the aggregation period (30 days before the management screen browsing date) and the user action of any of the leads to which they belong exists within the aggregation period
9: Inactive company (overall)
Of 1, the company registration is before the aggregation period (30 days before the management screen viewing date) and
Number of companies for which user actions for all leads belonged within the aggregation period
10: New company (overall)
Among 1 companies, the number of companies whose company registration is within the aggregation period (30 days before the management screen viewing date)
11: Repeat company (overall)
Among 1 companies, the number of companies whose company registration is before the aggregation period (30 days before the management screen viewing date) and the user action of any of the leads to which they belong exists in the aggregation period
12: Inactive company (preserved conditions)
Of 3, the company registration is before the aggregation period (30 days before the management screen viewing date) and
Number of companies for which user actions for all leads belonged within the aggregation period
13: New company (saved conditions)
Among 3 companies, the number of companies whose company registration is within the aggregation period (30 days before the management screen viewing date)
14: Repeat company (preserved conditions)
Among 3 companies, the number of companies whose company registration is before the aggregation period (30 days before the management screen viewing date) and the user action of any of the leads to which they belong exists in the aggregation period